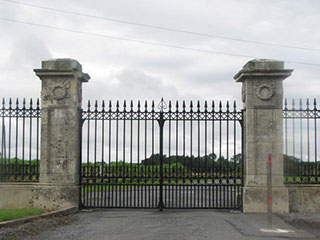 Installing the Gate
Residential security gates are essential in enhancing the level of security you have at home. They actually comprise the first line of defense your home will have against would be intruders. A gate can be enough of a deterrent to dissuade opportunistic criminals from breaking into your property. Call today and have gate custom made now. Your gate can be made of wrought iron, steel or wood. You can also choose between a slide or swing system for opening. Before setting your heart on the method of opening, you first need to determine if you have enough space for the style you want. The common considerations include, enough lateral space for slide types or in the case of swing types, enough room inside or outside your driveway in terms of swing space.
Repairing the Gate
Gates are built from some of the toughest building materials on Earth. This does in no way mean that they are indestructible. Sometimes, the simplest thing like neglect can bring a durable gate crumbling down. If you have a wooden one, your bane is going to be rot. With metal, it's rust. Both of these start small but insidiously create extensive damage in the long run. Another more sudden cause of damage includes impact from vehicles or other objects. If you notice any of these, call our company and we'll take care of it. We'll restore broken posts and gate parts and reinforce weak weld joints. We'll also reinforce sagging doors with struts, cables and brackets. We can also replace an entire gate and its parts if there is just too much damage.
Repairing the Opener
The opener is your best friend when it comes to convenience in operating your gate. Without the use of residential gate openers, you will have to manually operate your gate, every single day. Because openers are so frequently used, they can't escape their parts getting worn out. These usually affect the belts in the drive assemblies and the gears in the gear box. Call us and we'll replace old and worn out parts with brand new ones. If the issue involves the electronic components, we also have replacement parts for those too, so you can count on us to fix your opener whether the problem is mechanical or electronic.
Automating the Residential Gate
If you would like to leave gate operations totally to an automated system, then call us up. We install automatic residential gate openers just for this reason. With this automated gate, you'll be able to drive past the gates without the need to get out or even push a button. Sensors outside and inside your driveway will detect your car coming and operate the gate automatically for you.
Call us up for installation of this and other gate setups. We also provide professional repair services.
Give our team a call if you need help with:

Carper Remote

Sliding Gate Wheels

Phone Entry Systems

Ornamental Iron Gates