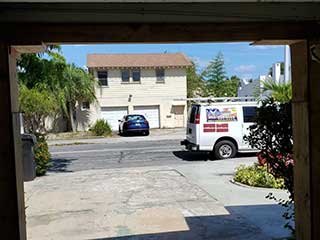 Our professional repair experts specialize in fixing other types of complex mechanical systems, not just gates. If you suddenly discover that your garage door has a problem, don't hesitate to reach out to our team. Our technicians are highly skilled at dealing with all sorts of malfunctions this type of mechanism can experience. Here are just a few of the different areas we specialize in repairing:
Broken Spring Replacement
The opener (which garage doors use too, just like gates) isn't the part that supports the majority of the panels' weight. That role is reserved for the springs. These hardworking components are under a lot of stress day in and day out, and they will end up breaking eventually. Replacing them safely is no easy task, so you should never try to do it by yourself. Let our professional technicians handle this type of problem for you quickly and safely.
Professional Opener Repair
There are all sorts of issues this electro-mechanical unit can experience, from worn gears to problems with the circuit board. Whatever the problem, our team can fix it. If your opener fails to work properly, you can still open the door manually if you disconnect it, but that can be incredibly annoying, and potentially more dangerous as well. That's why you should opt to have our team quickly come over and root out the problem.
Problems With The Hardware Parts
There are a lot of different components that your garage door relies on in order to work optimally. Unfortunately, these parts can all experience their fair share of issues. Bent tracks, frayed cables and worn rollers can all result in different issues that will leave your door hanging to one side, or off track and stuck. Our technicians have the knowledge and technical expertise required to safely replace or repair any of the system's hardware components, and to make sure the mechanism can function smoothly and without any issues once again.
Call Us Today
If you need emergency garage door repair services that involve anything from broken springs to damaged panels or some type of opener related issue, give our team a call. Our experts at Gate Repair Lantana will be happy to help you with anything.