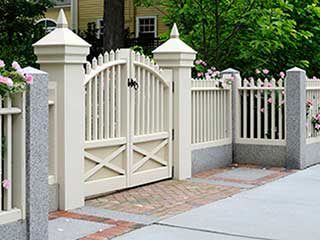 A gate is a starting point of a house, and maintaining it is in the best interests of the owner. People spend lots of money and effort to make them look attractive and mighty with the belief that they will work for years. As a repair service provider, we at Gate Repair Lantana have formulated our brand psychology behind this belief.
Although we undertake complete repair, installation, and maintenance services, we believe in trying to repair a faulty gate than replacing the whole thing. This not only reduces the overhead cost but also inherently satisfies our customers. This is one of the primary reasons why most of the residents in Lantana prefer us over other local providers.
In addition to opener and hinge repair, we also provide solutions for intercom systems, tracks, alignment, wheels, doors, and other minor parts. If a certain part cannot be repaired, we try to replace it with the most compatible model so that the replacement does not affect other parts, or the overall operation of the gate. Following are some of the brands that we recommend to our patrons:
Liftmaster
Elite
Aiphone
Doorking
FAAC
DKS
Ramset
Elite
BSL
Eagle
We are also known in Lantana for our maintenance services and safety tests. Some of the reasons why it is important to carry out recurring safety checks are given below:
Early detection of faults and errors
Determination of remaining life expectancies of various parts
Clean-up of rotten and rusty parts
Complete inspection of the entranceway
Following are few case studies that signify their importance:
Don't Get Locked Out of Your Own House
An opener detects the presence of a vehicle and automatically triggers the entrance doors to open. However, since openers are electronic sensor-based products, they can malfunction anytime due to multiple causes. What if it stops working when you are returning from a month-long holiday trip? Even though the gate can be manually opened, it is not a pleasant experience.
Safety tests and quality checks by our company will help you ensure that such incidents are closed down to a minimum. Recurring safety tests can detect potential issues with openers and other parts.
Gate Repair Lantana to the Rescue
Weather conditions can have serious effects on gates that are made of iron or wood. They can decay or get rusty, and can lead to corrosion. While such rotten parts can be replaced, it is better to nip such problems in the bud. Our safety tests will make certain that parts of your gate are lacquered and well-maintained at all times. We recommend that house owners test the safety of their properties twice every year.
Contact Gate Repair Lantana and get professional support.